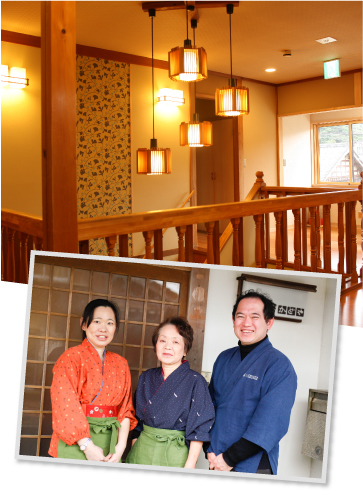 Sazu Onsen is a hot spring resort that faces the rough Sea of Japan, only two stops from JR Kinosaki Onsen station. There are some 40 Japanese-style minshuku accommodations.
KADOYA is situated seven minutes' walk from Sazu Station on JR Sanin Main Line and only three minutes' walk to a beautiful sandy beach on the Sea of Japan. Located within the San'in Kaigan Geopark, we offer you a dynamic, panoramic view of fantastically shaped rocks and cliffs from the window of your room.
KADOYA has seven guest rooms, all of which are traditional Japanese style rooms covered entirely with rush straw mats ("tatami"). We also have separate indoor/outdoor baths for men and women, as well as a private outdoor bath. Located close to a large fishing port, we provide you with the freshest seafood, including crab, fish and squid in season.
* Wireless LAN is available in all guest rooms.
* The check-in time is 3:00 p.m. Please relax and unwind in the traditional Japanese room after check-in.

This area gets snow twice or three times a month and sees a meter of snow during the winter months (between November and March). The snow-covered coast and rough ocean waters create a very fantastic scenery. The area has much to offer to winter lovers.
Here is a good place for marine sports from spring to autumn. KADOYA gives you an experience to try scuba diving in summer. Takeno Coast, which is close by to JR Takeno station (only one stop from our nearest station), is a mecca of sea kayak. At Kasumi Coast (only two stops from our nearest station), you can enjoy a cruise boat ride, delighting you with the picturesque scenery of the dynamic seashore line.
For those who are interested in art, please visit "Daijoji Temple", which is famous for the screen doors painted by a famous Japanese artist, Maruyama Okyo (1733 – 1795), "Tajima Daibutsu", the world's three largest golden Buddhas with a height of 15 meters, and the "Museum of Wood Culture" designed by Tadao Ando, a world-renowned Japanese architect.

We serve traditional Japanese dinner that is centered around the freshest seafood uploaded at nearby fishing ports (crab, fish and squid) all year round except for the months of June, July and August. You can savor crab, a local delicacy, served as grilled, shabushabu hot pot and sashimi. Highly recommended is crab grilled on charcoal (at the open hearth on the first floor of the minshuku).
We can also offer special shabushabu hot pot dinner with crab and wagyu (Japanese-produced beef). This place has raised Tajima breed cattle as stock for famous beef such as Kobe beef for some 700 years. Tajima beef and Kobe beef are well-known as a representative Japanese cow.
For breakfast, you can expect Japanese home cooking ("obanzai") prepared with fresh ingredients produced locally, including grilled fish, seaweed, fresh eggs, and salad. It is low in calorie and easy on your stomach.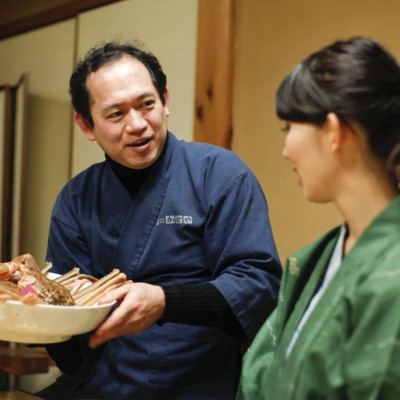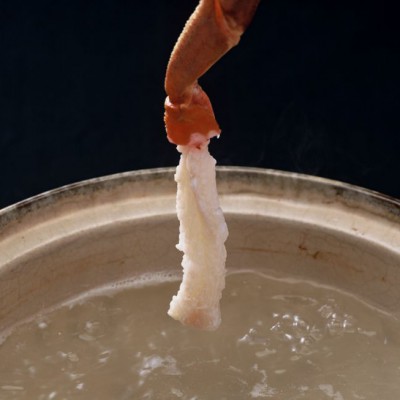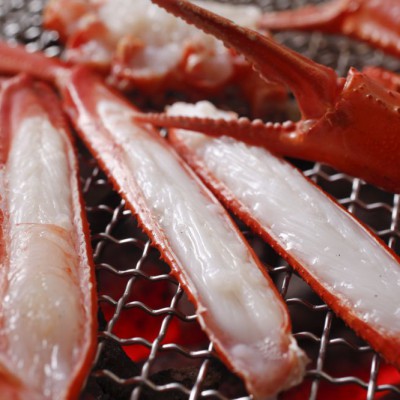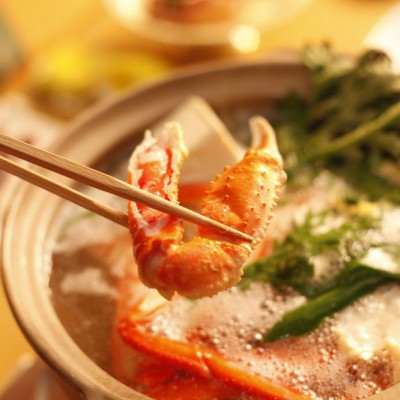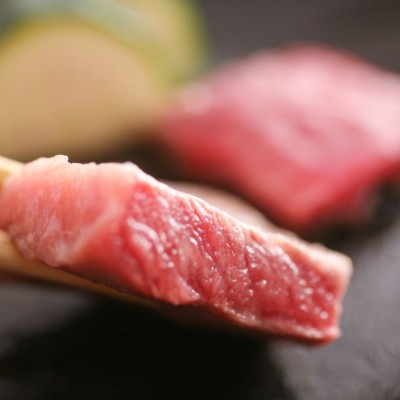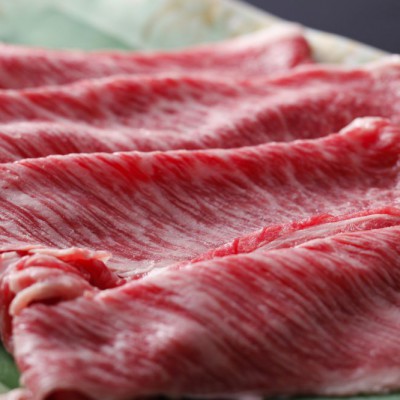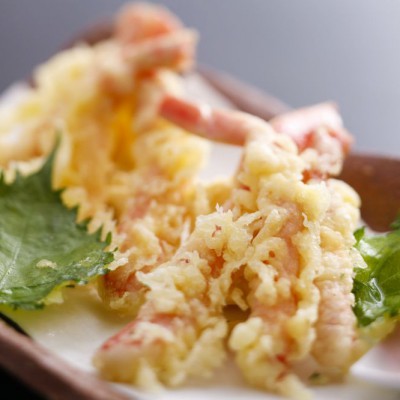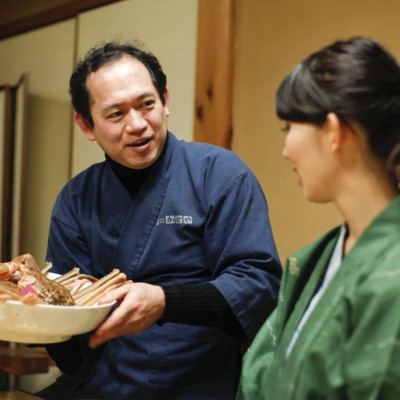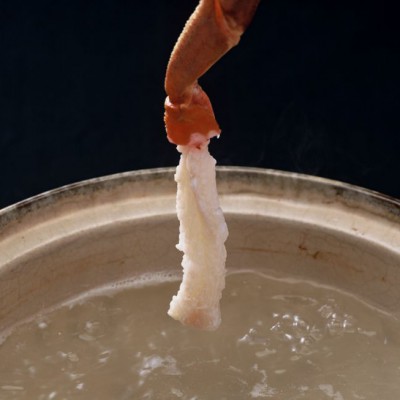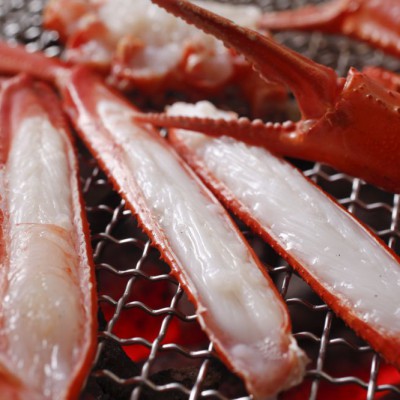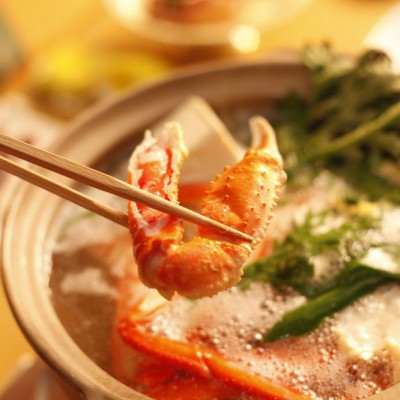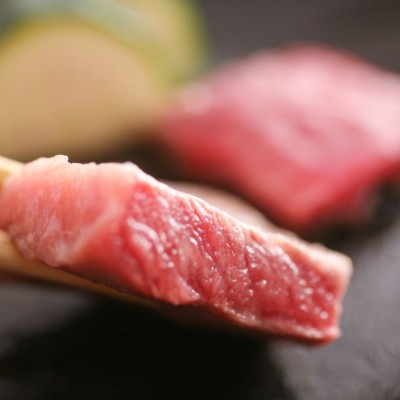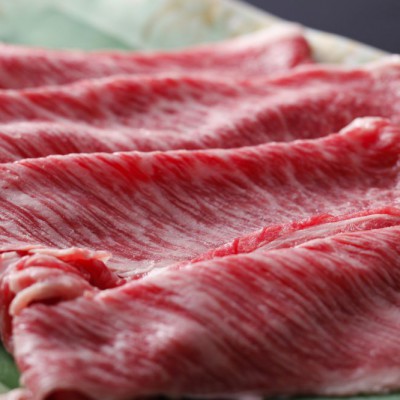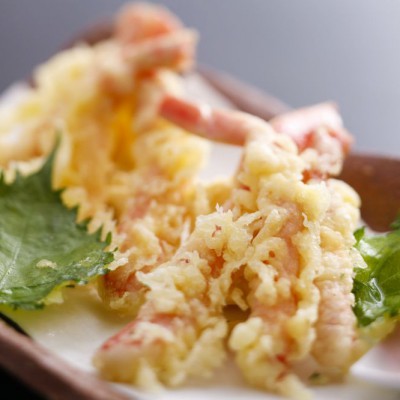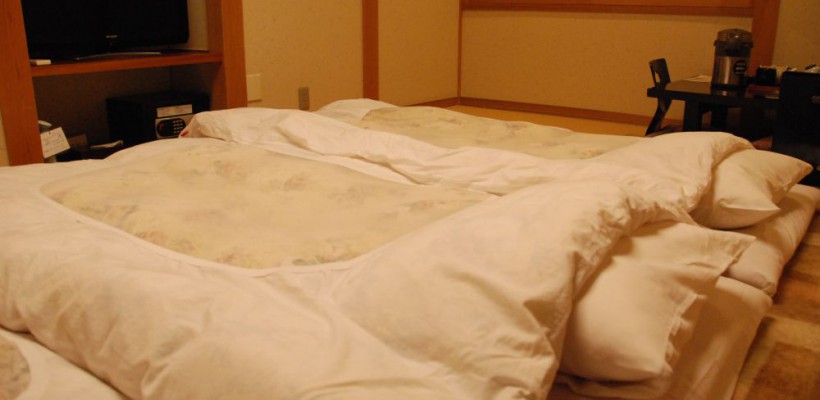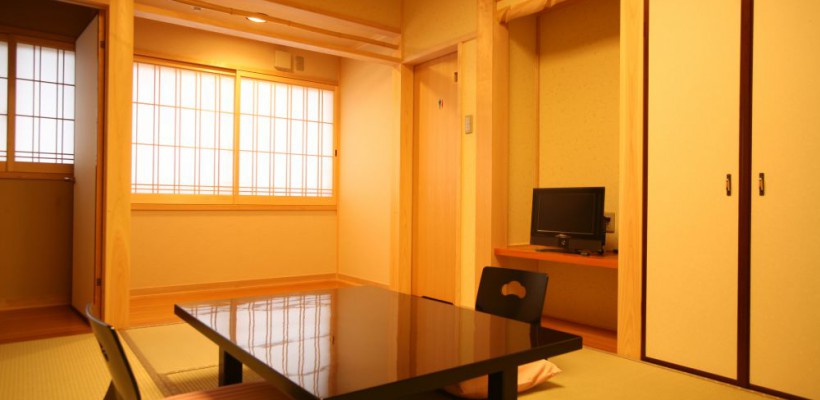 Each of the seven guest rooms is in traditional Japanese style, covered entirely with tatami mats woven with natural soft rush ("igusa"). The rooms are separated by shoji, sliding screens consisting of thin washi paper over a frame of wood. Some of the rooms are also separated by fusuma, sliding doors made of a frame of wood and thick washi paper.
You can have a good sleep with comfortable futon. Each room has the air conditioning & heating units equipment, allowing you to have a more pleasant stay here in summer and winter.
Wifi is available for guest use in all guest rooms. Each of the rooms is equipped with electronic Washlet toilet.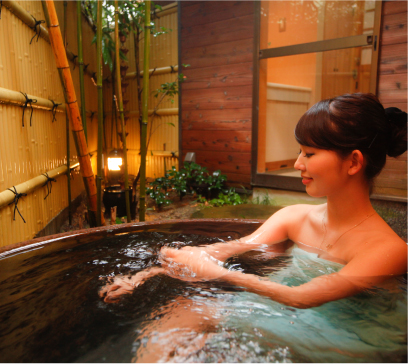 You can enjoy taking separate indoor/outdoor baths for men and women, as well as a private outdoor bath at KADOYA. All outdoor baths have a bathtub made of porcelain and can fit one or two people. The onsen water of the bathes features salt spring that benefits one's high heat retention,
Please reserve the private outdoor bath in advance. It is available at 4:00 p.m., 5:00 p.m., 8:00 p.m. and 9:00 p.m. (50 min., free of charge)

| | |
| --- | --- |
| Check-in: | Time: 3:00 p.m. |
| Check-out: | 10:00 a.m. |
| Payment: | Cash (Japanese yen) or credit card (VISA or MasterCard) |
| Taxes: | Additional onsen tax of 150 yen per guest per night |